Guano Tourist Places
Find here a tourist guide of this wonderful place. Cradle of artisans who make beautiful leather crafts and manufacture the finest carpets made of wool.
Today Guano is recognized for its tourist activities, it stands out for its wonderful points of interest, this helps this beautiful parish to have a large part of tourist reception. If you are thinking of having a good time with family or with friends we show you a list of the best places to visit in Guano:
Guano Tourist Places
How to get to Guano?
Riobamba, capital of the province of Chimborazo,
is the most advisable route, an asphalted road takes you to Guano in just 10 minutes.
If you come from Quito, you can take the detour that is announced in San Andrés.
Another interesting option for those who wish to move along narrow and zigzagging second-order roads, with the continued risk of getting lost without the appropriate indications of the inhabitants of the communities. Only in this way you can reach the parishes of Illapo, San Isidro, San Andrés San Gerardo, Guanando, San José de Chazo Santa Fe de Galán, La Providencia and Valparaíso. Names of populations that have only become news because of the eruptive process of the Tungurahua Volcano.
Once in Guano, the first thing that surprises is the picturesque architecture of the place and the calm atmosphere of its paved, cobbled or stone-covered streets, which highlights the activity of wool fabrics and its rich cuisine.
One of the most visited places is the City Museum which is located next to the ruins of the Monastery of the Assumption and the El Rosario Children's Park. It was inaugurated in February 2006. In the museum the most important thing is the mummy of Fray Lázaro de Santofimia, a Spanish Franciscan missionary. It was found in one of the windows of the old church, after the earthquake of 1949.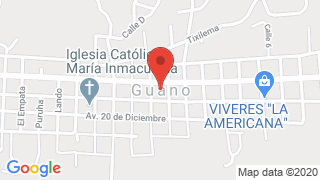 ---